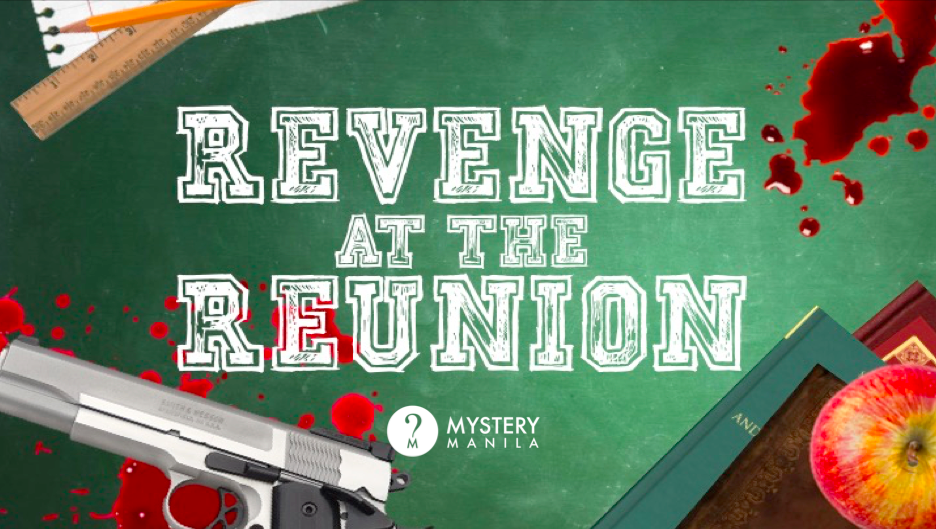 Revenge At The Reunion
Reunion gone wrong. Can you solve the the murder of the High School's Reporter during the reunion?
Product Details:
Price:
₱399
Description:
*** Kindly check the available schedule with our team first prior to checking out via this LINK

Let us host a Murder Mystery party for you and your friends via Zoom.

Introducing our latest murder-mystery via Zoom: Revenge At The Reunion!

Attend a virtual high school reunion where you and your guests play victim, suspects, and killer in this one-of-a-kind party to DIE for. Put on your detective hats as you investigate for clues and interrogate each other to solve a virtual murder.
Difficulty: 7/10
Time to finish: 1-1.5 Hrs
How To Play:
The Murder Mystery FAQs
---
What are the minimum and maximum number of players?
We require a minimum of 5 players and a maximum of 15 players. But if you're a much bigger group than this, let us know so we can see if we can customize something for your group.
How much is the game?
Special introductory price is only P399 per head. Hurry, book now while the offer is still valid.
Are there specific time slots? Can we play during a weekend? Can you host a late night game?
There are no specific time slots. As long as there are no schedule conflicts and our moderator is free, we can accommodate your group.
How do I book?
Continue to checkout or send us a PM via Mystery Manila's FB page with your preferred schedule and number of players so we can check availability for you.
What do we need to play? Can I play on mobile?
Each participant needs to be able to log-in to Zoom with a stable video and audio connection. You can play through mobile or desktop, although desktop is recommended.
We don't have Zoom. Can we do it via other apps?
We highly encourage using Zoom because some of its functionalities are needed for the game play. It's free to make an account and download the app. However, if for some reason your group prefers to use other video calling apps, send us a PM via Mystery Manila's FB page so we can test it out.